The need for different actual and billed quantities may arise in several instances. For example if an extra  inventory is sent to cover up for any stock that reaches in a damaged condition or Inventory sent as extra samples or the Stock is despatched to the customer as quantity discount.
Setup:
Ensure that you are in the Gateway of Tally
Go to F11: Features and set Use Separate Actual and Billed Quantity columns in Invoices - Yes.
141
1.         Gateway of Tally > Vouchers > press F8 (Sale).
Alternatively, Alt+G (Go To) > Create Voucher > press F8 (Sale)
You will notice that the Quantities column is divided into two columns, viz. Actual and Billed.
Example: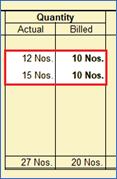 142
Swayam Sales purchase the following items from Radiant Techno Ltd. with Product Scheme like as given..

Name of the Item

Actual Qty

Billed Qty

Rate
(in ₹. )

Keyboard-iball

12 Nos.

10 Nos.

700

Mouse-Iball

15 Nos.

10 Nos.

500
The Sale Invoice will be like this as given below :
143
Note : The Rate is charges on the basis of Billed Quantity but the stock is updated on the basis of Actual quantity. In other words, Difference in quantity is FREE.