Payment voucher is used to account all the payments made by the company by way of Cash/Bank.

Payment voucher can be passed using Single Entry or Double Entry mode by configuring the setting Use Single Entry mode for Pymt/Rcpt/Contra in F12 configuration .

Gateway of Tally.ERP 9 > Accounting  Vouchers > F5 : Payment displays the Payment Voucher.
Transactions : Paid Salaries of ₹. 5000 and Rent of ₹.2000 by cheque of  State Bank of India as on   1-04-2020.

1. Voucher Classes for Payment & Receipt Voucher
All Payment or Receipt are of two types….either Cash or Bank ( may be NEFT/Debit Card/ Credit Card/Direct Transfer)

Voucher Classes are available for all major voucher types like Contra, Payment, Receipt, Journal, Sales, Credit Note, Purchases, Debit Note, Sales Order, Purchase Order, Delivery Note,  and Stock Journal.

So, we can create two Classes – Cash Payment/Receipt  & Bank Payment/Receipt.

Let's we create a Two Class in case of Payment Voucher: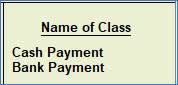 Alter the Payment Voucher Type

1.            Go to Gateway of Tally.ERP9 > Accounts Info > Voucher Type > Alter 'Payment Voucher'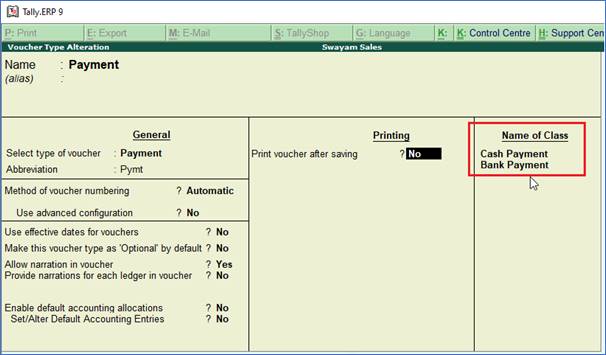 2.            Retain the rest of the fields as they are.

3.            In the Voucher Type alternation screen, write 'Cash Payment' in the Name of Class field.

4.            Ensure that voucher type class is defined as shown in figure.



Note:
Since it is a Cash Payment , select Cash-in-hand under Include Groups section and select Cash Ledger in third section. So that at the time of voucher entry , Cash ledger will select automatically.
Similarly, in case of Bank Payment, selection of Bank Ledger in third section is not required (select Not Applicable)  if the business have multiple Bank Ledger Account.
5.            Make an entry of the transaction in a Paymnet Voucher – Voucher Class Cash Payment

Go to Gateway of Tally.ERP 9 > Accounting Vouchers >  F5 : Payment > Select 'Cash Payment' under Voucher Class List


Ensure that the Payment Voucher entries are as given in the Figure: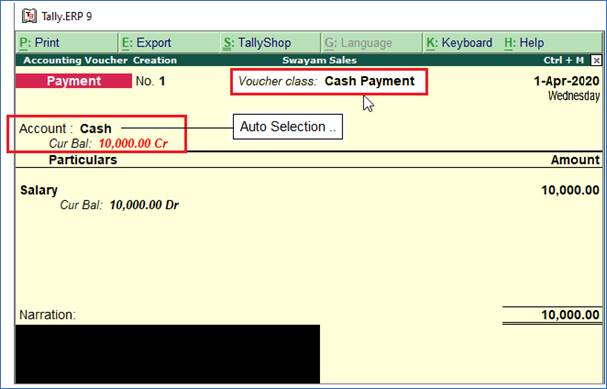 Note :
In this case, No Cash Ledger has to be select at the time of Payment Voucher Entry.