Tally.ERP 9 provides users with the option of pre-configured cheque printing. A list of ready-to-use cheque formats for different banks are provided to use them in as is condition or alter them to fit your requirements. You can also define custom cheque formats to meet your needs.
Go to Gateway of Tally > Accounts Info. > Ledgers > Create
In the Ledger Creation screen of the bank,
The Bank Configuration sub screen is displayed.
Select the required Bank from the List of Banks available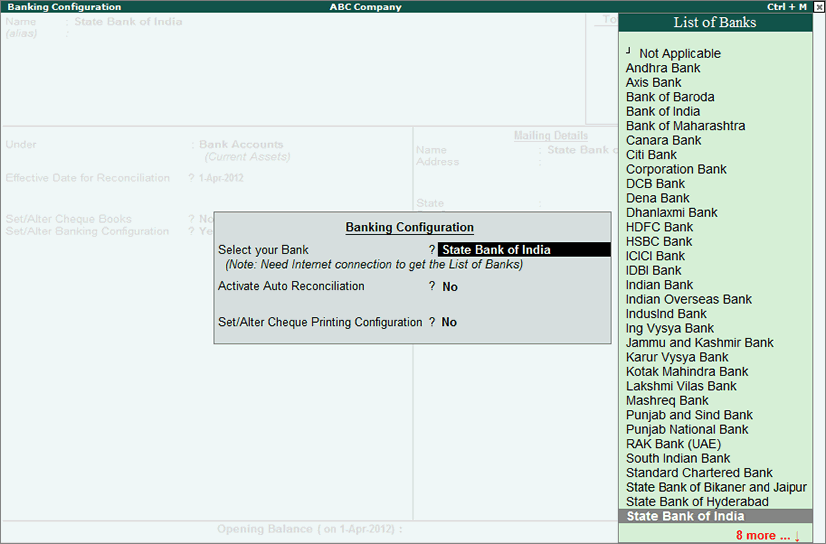 Enable the option Set/Alter Cheque Printing Configuration
The Cheque Format Selection screen appears with the various formats available for the selected bank and a preview of the cheque for the selected format is also displayed. Here, the cheque displayed is as per Format 1 for State Bank of India.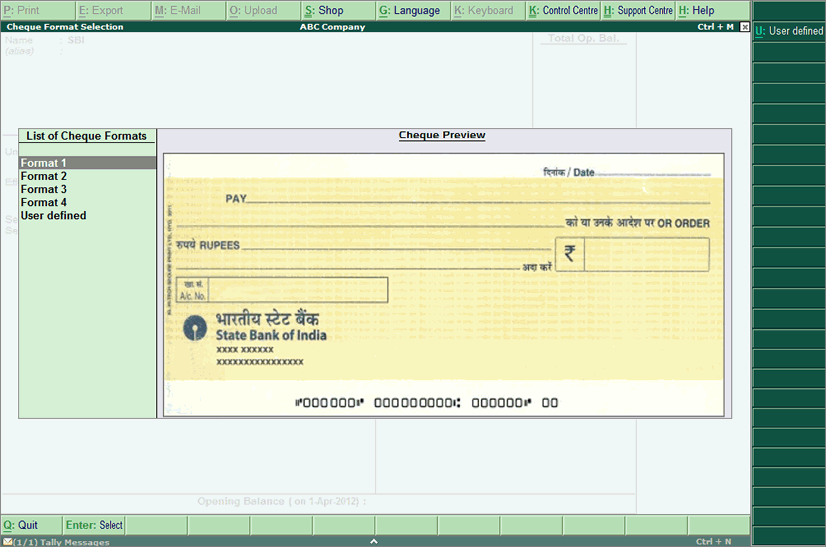 Print Preview for the selected Cheque Format appears:
Option has been provided for you to define the Cheque Dimensions as per your requirements;
The Cheque Preview displays a message instructing the user to press Alt+U to proceed with creating a user defined configuration.
Click on U: User defined or press Alt+U
The Cheque Dimensions screen appears, which can be filled in by the user with the required dimensions.
To copy the configurations from the sample format provided in Tally.ERP 9, or from the cheque configurations made for a different bank in Tally.ERP 9, click on C: Copy Form or press Ctrl+C
The Select Configured Bank screen appears:
A List of Configured Banks will be displayed, including Tally.ERP 9's Sample Format.
Select the Bank or Sample Format whichever is required
The Cheque Dimensions screen appears filled in with the dimensions of the selected format: