Query
While altering receipt entry getting message as "incorrect ledger selected in the bank allocation screen".
Reason
In Release 4.92 while saving the Receipt voucher after altering the participating ledger in double entry mode an error "Incorrect ledger selected in Bank allocations" is being thrown and it is not allowing to save. This issue is occurring since the ledger name field present in the bank allocation is not getting refreshed/updated with the modified ledger.
Solution
Upgrade the release from Tally.ERP 9 Rel 4.92 to Tally.ERP9 Rel 4.93.
Note: - Customers whoever wants to continue in 4.92, follow the work around solution, mentioned below.
a) Open Receipt voucher > Press F12 > Under Banking Configuration Set the parameter Use default for bank allocations to "Yes".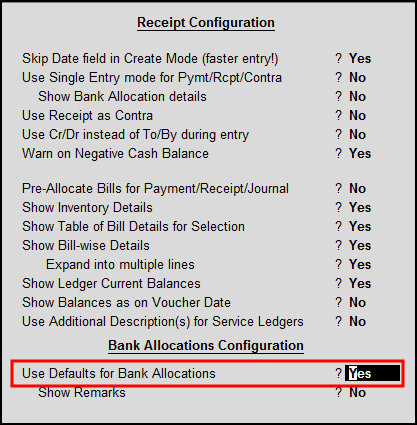 Or
b) Open Receipt voucher > Press F12 > Under Receipt Configuration "Use Single Entry mode for Pymt/Rcpt/Contra to "Yes".