i. Create group "Outstation Debtors" under sundry debtors.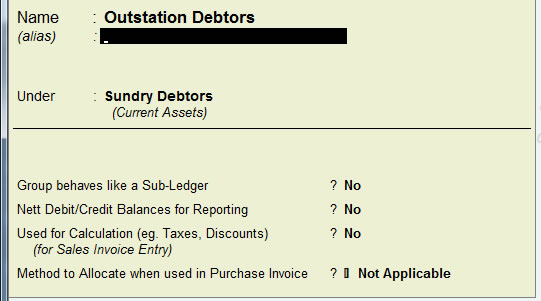 ii. Create ledger "Seacrest Trading Corporation" (under Outstation Debtors).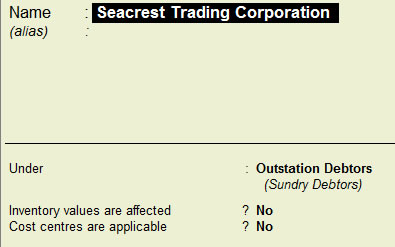 iii. Make an entry of the transaction in a Sales voucher [ F8: Sales ].

Note: To account for the discount allowed on items sold, set Separate Discount column on Invoices to Yes in F11: Features — Inventory Features. For this transaction, set Use different actual and billed quantity to No in F11 : Features. Ensure that As Invoice and Item Invoice buttons are activated as the sales entty has to be recorded as an item invoice.

1. Party's A/c Name: Seacrest Trading Corporation.

2. Ensure that sales invoice entries are as given.
| | | | | | |
| --- | --- | --- | --- | --- | --- |
| Name of Item | Qty. | Rate | Per | Discount | Amount |
| High Capacity Stabilisers | 90 nos | 900 | Nos | 5% | 76,950 |
| Output VAT @ 12.5% | - | 12.50 | | | 9,619 |