Note:
According to the guidance note on Accounting for State-level Value Added Tax issued by Institute of Chartered Accountants of India (ICAI), the amount of tax paid on purchase of inputs/supplies and available for VAT credit should be debited to a separate account and this should not be included in the cost of purchase. As and when VAT credit is actually utilised against VAT payable on sales, appropriate VAT accounting entries are required to record the adjustment. For example, in Karnataka a dealer is required to pay VAT and file VAT returns on a monthly basis. Hence, the VAT adjustment entry is recorded at the end of every month. To record the adjustment, input and output VAT tax accounts are credited and debited, respectively to nullify their balances and the net balance is transferred to VAT adjustment account. A debit balance of VAT adjustment account indicates that the excess input credit is being car- fled forward to the next month and a credit balance indicates that VAT is payable.
As per accounting conventions
The journal entry for the above transaction is as follows..
VAT AdjustmentA/c

Dr.

Rs. 23,500

To

Input VAT @ 12.5%

Cr.

Rs.12,500

To

Input VAT@ 4%

Cr.

Rs.11,000
i. Create ledger VAT Adjustment A/c (under Duties and Taxes)
 
Go to Gateway of Tally > Accounts Info > Ledger> Create to view the ledger creation screen.

1. Name: VAT Adjustment A/c.
2. Under: Duties and Taxes.
3. Type of Duty/Tax: Select VAT from Types of Duty/Tax list.
4. VATITax Class: Not Applicable.
5. Inventory values are affected?: No.
6. Accept? Yes or No? — Press Y or Enter.

Note: Since the VAT/Tax Class is not applicable the percentage of calculation automatically appears as 0. The method of calculation automatically is set to 'On VAT Rate' when VAT is selected as the type of duty/tax.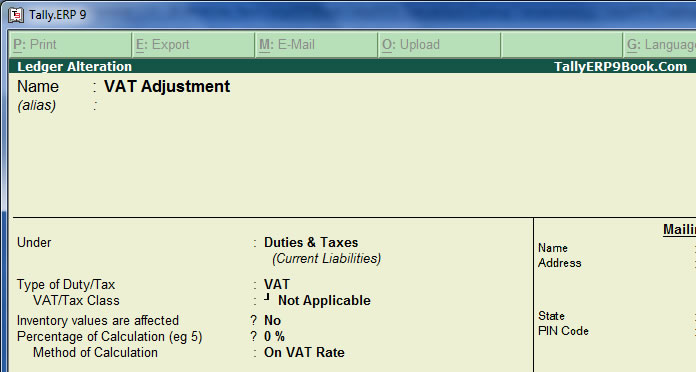 ii. Make an entry of the transaction in a Journal voucher.

To know the tax amount that is to be adjusted, go to Gateway of Tally> Display> Statutory  Reports > VAT Reports > VAT Computation