As the name implies, it is a Non-Accounting voucher whose entries do not affect your accounts at all. The entries in this voucher are not posted into ledgers, instead are stored in a separate Memo Register. A Memo Voucher can be converted into a regular voucher, to be included in your books of accounts.

[ Gateway of Tally.ERP > Accounting Voucher > Click on Ctrl +  F10 : Memo ]

This type of Memo Voucher, which can be used in many situations such as..
Suspense Accounts : Suppose an employee takes an advance for his traveling expenses. Until and unless the expenses are incurred, the actual expenditure details cannot be worked out. A Memo Voucher can be entered for advance and can be turned to a Payment Voucher after receiving the details of the expenditure incurred
Memorandum Voucher Register
To view all the memorandum vouchers,
Go to Gateway of Tally > Display > Exception Reports > Memorandum Vouchers.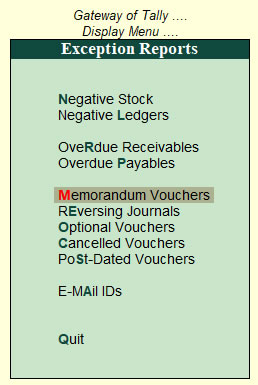 Note: You can also view memorandum vouchers from the Day Book.
You can alter and convert a Memo voucher into a regular voucher when you decide to consider the entry into your books. Use Scenarios to see the effect of Memo entries on reports and statements.