Books of Accounts Reporting @ Tally.ERP9 ...
8. Books of Accounts
Introduction

You can generate different types of Books of Accounts, which are needed daily for reporting purpose. The most common books of accounts are :

1. Cash Book
2. Petty Cash Book
3. Bank Book
4. Journal Book
5. Ledger
6. Purchase Register (including return)
7. Sales Register (including return)
8. Stock Summary
9. Stock Flow
10. Stock Item
11. Balance Sheet
12. Profit & Loss Account
13. Trial Balance
14. Day Book
All the reports for Books of Accounts are available from the " Display menu of Report option".
1. Cash Book
Gateway of Tally.ERP > Reports > Display > Accounts Book > Cash Book

Image-9
2. Petty Cash Book

Select the Petty Cash Ledger from

Display > Accounts Book >Cash / Bank Book

Select 'Columnar' option (F8) from right side of the window

Configure the screen as below :

Image-10
3. Bank Book
Gateway of Tally.ERP > Reports > Display > Accounts Book > Bank Book
4. Journal Voucher
Gateway of Tally.ERP > Reports > Display > Accounts Book > Journal Voucher
5. Ledger
Gateway of Tally.ERP > Reports > Display > Accounts Book > Ledger
6. Purchase Register
Gateway of Tally.ERP > Reports > Display > Accounts Book > Purchase Register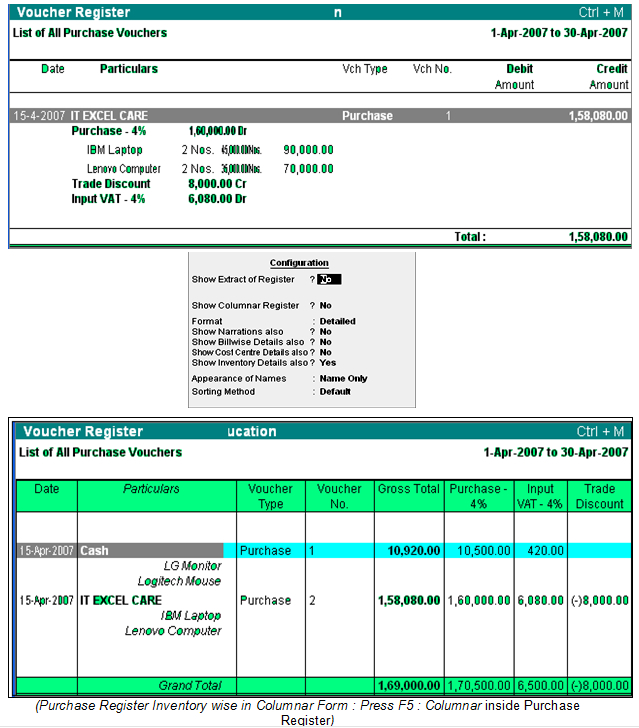 7. Sales Register
Gateway of Tally.ERP > Reports > Display > Accounts Book > Purchase Register