Opening (Loading) Of Tally.ERP9
You can load Tally.ERP by using...

1. Shortcut stores on the Desktop

2. Start >> Program >> Tally.ERP 9

The first Screen is called Gateway of Tally.ERP.

Gateway of Tally is the screen that appears on selecting a company. The Gateway of Tally menu differs based on the type of company selected. An Accounts Only Company has a different Gateway of Tally menu from that of an Accounts-with-Inventory Company.
The Gateway of Tally menu of a company appears as shown below: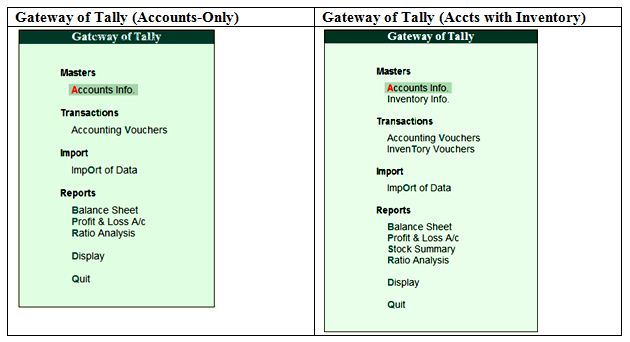 Main Area (Ctrl+M)
The Main Area is separated into the following two areas:
>> Left-hand side area
>> Right-hand side area

The left-hand side area in the Main Area provides information of Current Period, Current Date and List of Selected Companies and Date of Last Entry.
In the right-hand side, you get more detail information on the Company. The Company information menu consists of the following:

1. List of activated Company (Company already created)

2. Masters (for defining Ledger, Group, Sub-group, Inventory)

3. Transactions/Voucher Entry (Recording Transactions)

4. Reports (Viewing the Balance Sheet, P&L and other Reports)
Modification of Company
You can Modify your Company at any time, and for any information given while Creating the Company.

Go to Gateway of Tally
Select F3: Cmp Info. (ALT+F3) from the button bar


Select Alter and press Enter

Deletion of Company
To delete a company, you have to load the company first.
Select F3: Cmp Info. (ALT+F3) from the Gateway of Tally to proceed to the Company Information menu.

Select Alter and press Enter.

Select the company to be deleted. The Company Alteration screen is displayed.

Use Alt + D to delete. Tally.ERP 9 will prompt for a confirmation on deleting the company.

Press enter to delete the company.
Note: Deletion of a company is irreversible. The company is permanently deleted from the system.
Shut (Close) a Company
You can Shut a Company in Two ways – either using the button F1 : Shut Cmp ( Alt+F1) from Gateway of Tally.ERP
OR
by pressing Enter on Shut Company option from Company Information Menu (Alt+F3).

Company Selection
To select a Company click F1 : "Select Company" button ( or use F1 function key). By default it will show the list of existing companies with their names, company number and financial period. The screen appears as shown here :