How to Calculate TDS on total transaction amount including Service Tax?  (Knowledgebase) @ Tally.ERP9
Query
How to Calculate TDS on total transaction amount including Service Tax ?
Solution
For the accurate calculation of Service Tax and TDS follow the given steps
Step 1: Create the Expense Ledger by enabling TDS and Service Tax
As on this Expenses both Service Tax & TDS is applicable it is must to enable TDS & Service Tax feature by selecting the appropriate Service Category and TDS Nature of Payment.
Go to Gateway of Tally > Accounts Info. > Ledgers > Create
Step 2: Create TDS Ledger
Create the TDS ledger as shown below
Step 3: Create Service Tax Ledgers
Service Tax Ledger 
Education Cess Ledger
Secondary Education Cess Ledger
Step 4:  Book the Expenses, Deduct TDS and Calculate Service Tax through Purchase Voucher
1. Select the expenses ledger - Professional Charges and enter the Service Details in Service Tax Details screen
2. In Service Tax Details screen enter the Service Amount of Rs. 75,000 to calculate Service Tax.
3. Allocate the entire amount of Service to the applicable

 
TDS Nature of Payment
Note: nature of payment screen will display only when the option Allow Alteration of TDS Nature of payment in Expenses is set to Yes in F12: Configurations.
4. Select service tax ledger - Service tax @ 10% to calculate the Service Amount on the services and press enter to view the TDS Nature of Payment screen. In this screen by default the TDS Nature of Payment selected in the Expenses ledger will be displayed. Accept the default screen.
Note: TDS will be deducted even on the Service tax amount.
5. Select Education cess ledger - Education Cess @ 2% to calculate Education Cess amount. Accept the default TDS Nature of Payment screen
6. Select Secondary Education Cess ledger - Secondary Education Cess @ 1% to calculate Secondary Education cess amount. Accept the default TDS Nature of Payment screen
Note: In this case we have 3 different ledger to account different components (Service Tax, Education Cess and Secondary education Cess) of Service Tax. You can use single ledger to account tax of all the components. To know how to create single ledger please refer the topic Common Service Tax Ledger
7. Select TDS ledger - TDS- Professional Services to view the TDS Details screen. TDS Details screen displays the reference, bill name, Nature of payment Assessable Value (Service Amount + Service Tax Amount) with the TDS Amount.
Observe TDS amount will be displayed with negative sign
8. Provide the Bill Details as shown
9. On accepting the Bill-wise Details screen Tally.ERP 9

 
displays 
Service Tax Realisation for TDS Deducted Amount
 

screen
If you want to consider the

 
TDS

 

deducted

 

amount
 

as the

 
Realised amount for Service Tax Bill
 

you can select the

 
Category
. Based on the Category selected the

 
Service

Amount Inclusive of tax
 

and the TDS portion which is considered as

 
realised
 

will be

 
displayed

 
along with Service Tax on

 
Realised amount of Rs. 8273
In this case ABC Company has considered TDS Deducted as the Realised amount towards the Service Bill, hence they have selected the category and Service tax has calculatedon the realised amount.
If you don't want to consider the TDS amount as realised, then in Service Tax Realisation for TDS Deducted Amount screen select Not Applicable in Category field.
The completed Purchase Voucher is displayed as shown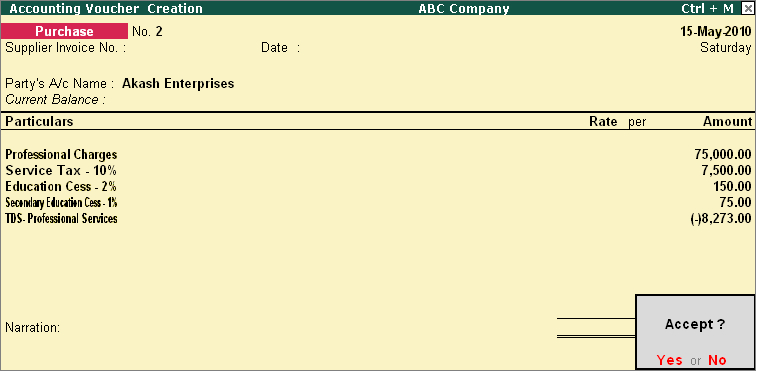 10. Press Enter to save.
Input Credit Summary Report
 If the TDS amount is set as Realised, to the extent of Realised amount the Input Credit will be available to assessee and details will be updated in the Input Credit Summary Report. To check
Go to Gateway of Tally > Display > Statutory Reports > Service Tax Reports > Input Credit Summary